Ichthyobodo is considered one of the most pathogenic flagellate protozoans of fishculture causing significant mortality, especially in smaller juvenile fish.
In Europe, the disease is caused by the species Ichthyobodo necator, which infects freshwater and brackish water fish.
Ichthyobodo Necator
Ichthyobodosis is a fish disease caused by Ichthyobodo necator, the parasite responsible for ichthyobodosis in freshwater fishes. The early name of the disease, Costia necatrix.
Ichthyobodo necator was first described by L. F. Henneguy in 1883 and more fully in 1884 and he named it Bodo necator.
The number of flagella in Ichthyobodo has led to quite a few obstacles for reproductive scholars in the past.
The Polymastigine costia necatris (Henneguy) is an ectoparasite of freshwater fishes, particularly common in aquariums and hatcheries.
The parasite attaches to the skin and gills of the fish, causing inflammation and ulceration.
Ichthyobodosis is a serious problem in commercial salmonid aquaculture and can result in high mortality rates.
Infected fish show a variety of signs including lethargy, loss of appetite, and increased respiratory rate.
Early diagnosis and treatment is essential to preventing widespread outbreaks of ichthyobodosis in aquaculture facilities.
Causes of Ichthyobodosis
Ichthyobodiasis is associated with parasites of the genus Ichthyobodo, formally known as Costia.
Intermediate parasite stages are veru small (5-10 micrometer) difficult to distinguish from normal skin or fish tissue.
The pathogen name is Ichthyobodo necator. this parasite found in salmonids, mainly affecting their skin and gills of fish, where it feeds on the host's tissue.
Ichthyobodo severely hinders the adaptability of young salmon to saltwater.
It is an obligate parasite, meaning that it can only survive by living inside another organism.
Susceptible Host\Species Infected
This parasite does not distinguish a parasitic host. This creature has spread into the oceans where it breeds with freshwater varieties.
Juvenile fish (fry and fingerlings) and adults are believed to be particularly susceptible to the attack.
Clinical Signs & Symptoms
Fish infected with Ichthyobodo are frequently languid and listless and typically exhibit flashing behavior.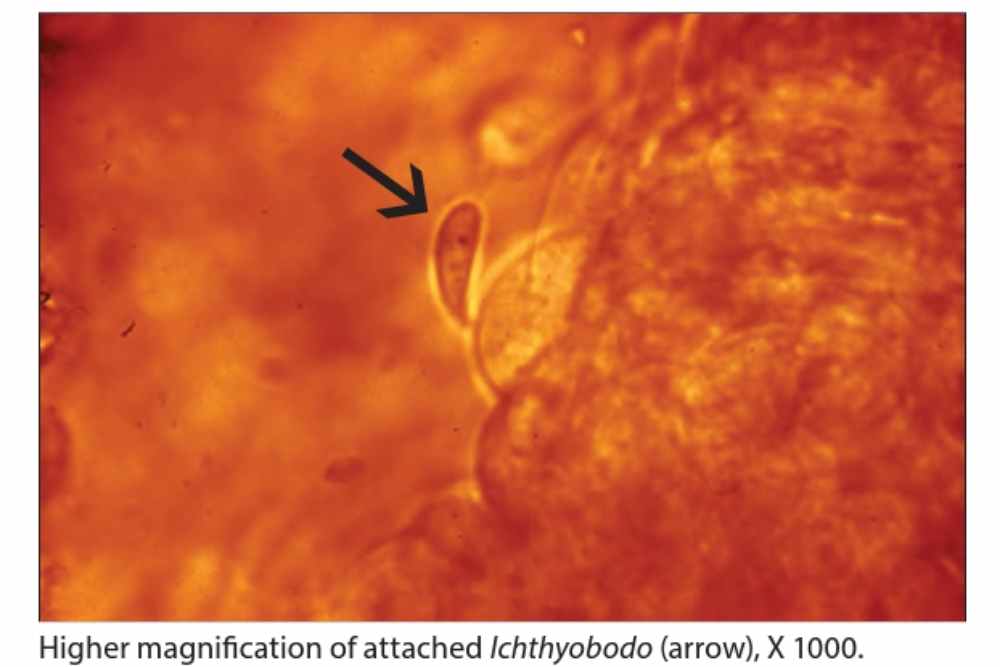 More advanced cases are characterized by a blue-gray film on the surface of fish owing to elevated mucus generation and and hyperplasia of the epidermal epithelium.
Gill hyperplasia and lamellar fusion (clubbing) are signs of ichthyobodosis, a disease caused by infestation of the gills by parasites. Secondary bacterial and fungal infections are common in fish with ichthyobodosis.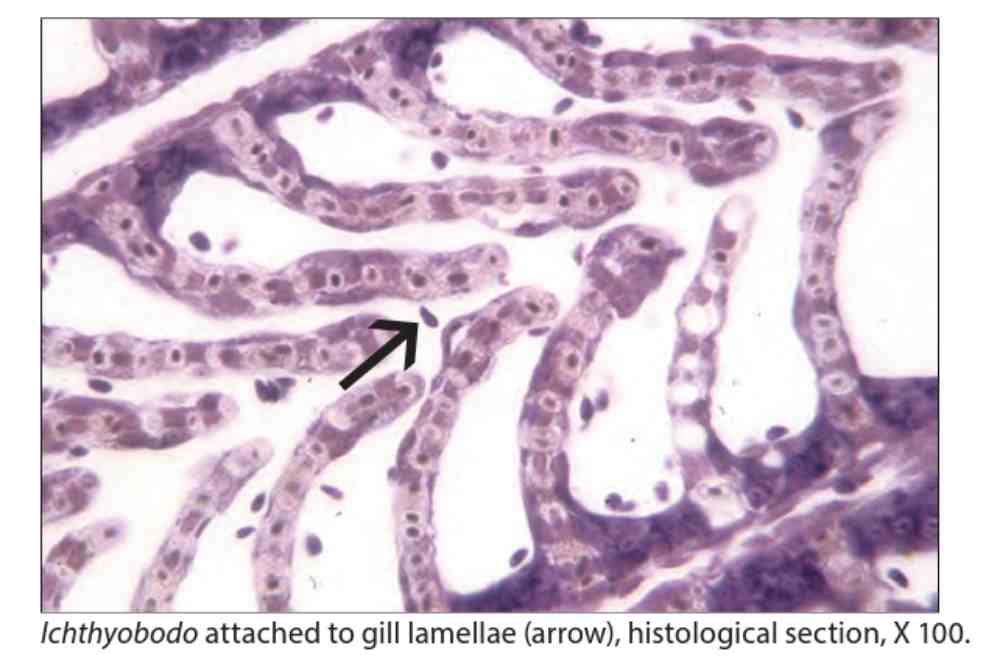 In salmon researcher found that the destruction of the surface of the infected cells show noticeable vacuolation of the cells, but the nucleus usually remains unharmed. It is concluded that I. necator does not eat the cell nucleus.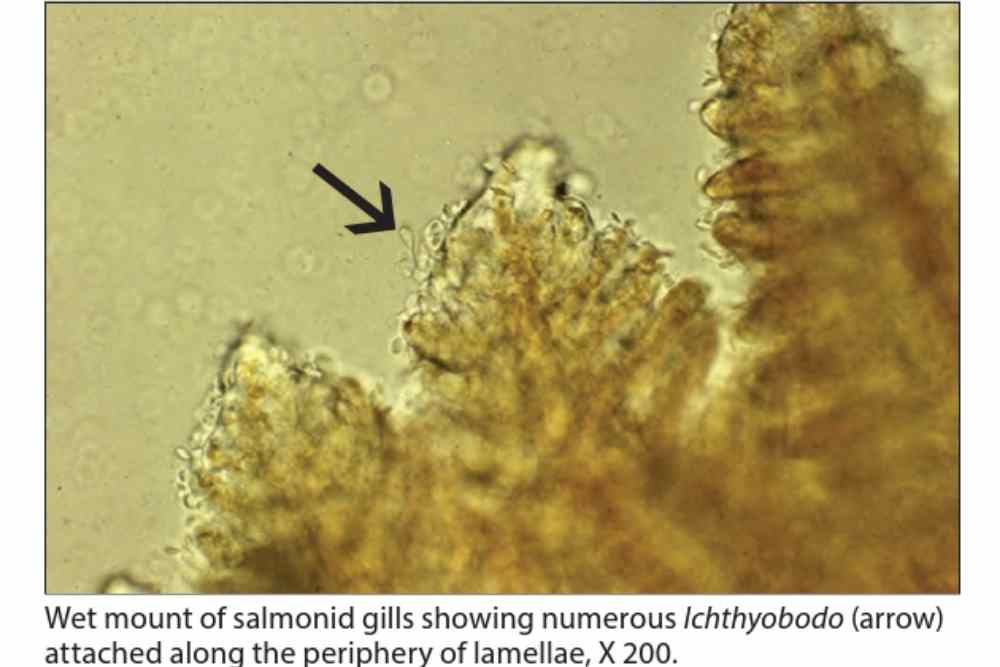 This parasitic caused hyperplasia of the malphigian and goblet cells, followed by form and function of the epidermis below infection, followed by the formation of plaques above the basement membrane.
Then the plaques detaching, leaving the epidermis underneath a layer of cells sticking to the basement membrane.
Cell kinetic studies showed that I. necator caused the cells immediately below infestations to divide, a markedly different pattern from that of normal teleost epidermal cell proliferation.
The possibility that the parasite secretes some form of digestive enzyme is postulated.
In areas where sloughing had occurred, the remaining malphigian cells were seen to be in the process of division (Robertson et. al., 1981).
Transmission of Ichthyobodosis
The disease affects both farmed and wild fish. These protozoan parasites are typically transmitted from fish to fish by direct contact, or through contaminated water.
Sub clinically parasitized fish are the reservoirs for the parasite in the environment, and can infect other fish without showing any symptoms themselves.
The transmission of ichthyobodosis is a serious problem for the aquaculture industry, as it can lead to mass die-offs of fish in farms.
The host is infected within an hour after division or the parasite dies.
Diagnosis
By examining the wet mount preparations of skin and or gills, a definitive diagnosis of ichthyobodosis can be made.
The organisms exhibit a characteristic symmetrical, oval, flat-bodied attached form with a relatively greater number of free swimming forms that are also ellipsoidal in shape.
Two of the creature's flagella have unequal lengths and lie in a groove along a funnel-shaped near the bottom .
look closely, they can be noticeable as blobs in stained histological sections.
Treatment of Ichthyobodosis
In order to prevent the spread of the disease, farmers must take care to quarantine any new fish before introducing them into the farm environment.
Microscopical examination and histopathology are the main contributors to disease diagnosis.
Prevention is managed primarily through hygienic practices, and treatment can involve use of formalin without further dilution (1:4000 or 1:6000) for bathing in running water with adequate aeration.
Ichthyobodo necator (Costia necatrix) which can be treated with salt water and in some places fish farmers routinely use a seawater content of 1 to 2 % from the very early life stages to prevent costiasis.
References
Savage, J. (1935). Notes on costiasis. Transactions of the American Fisheries Society, 65(1), 332-333.
Fish, F. F. (1941). Notes on Costia necatrix. Transactions of the American Fisheries Society, 70(1), 441-445.
Bhatti, M. N. (1979). A note on the occurrence of costiasis disease in the stinging catfish, Heteropneustes fossilis (Bloch) from Basrah waters. Arab Gulf, 11(1), 216.
Poppe, T. T., & Hastein, T. (1982). Costiasis in salmon smolt (Salmo salar L.) in sea water. Norsk Veterinaertidsskrift, 94, 259-262.
Haastein, T., & Poppe, T. (1984). Costiasis, an old disease in a new environment [Ichtyobodo necator]. Aktuelt fra Statens Fagtjeneste for Landbruket (Norway).
Iashchuk, V. D. (1977). Control of costiasis of the trout. Veterinariia, (9), 71-73.
Kanaev, A. I., & Vlasenko, M. I. (1973). Measures for the control of costiasis in carp during the winter. Veterinariia, 11, 69-70.
Naich, M., & Bilqees, F. M. (1998). The Incidence of Costiasis on Different Rainbow Trout Fish Farms on the River Itchen and Test Hampshire, UK. PROCEEDINGS OF PARASITOLOGY, 19-25.
Roubal, F. R., Bullock, A. M., Robertson, D. A., & Roberts, R. J. (1987). Ultrastructural aspects of infestation by Ichthyobodo necator (Henneguy, 1883) on the skin and gills of the salmonids Salmo salar L. and Salmo gairdneri Richardson. Journal of Fish Diseases, 10(3), 181-192.
Franke, J. (1908). Radical prevention of Costia necatrix in salmonoid fry.
Alvarez-Pellitero, P. (2004). Report about fish parasitic diseases. Etudes et Recherches, Options Mediterranennes. CIHEAM/FAO, Zaragoza, 103-130.
Egidius, E. (1983). An overview of health problems in marine fish culture in temperate waters. Rapports et Proces-Verbaux des Reunion, Conseil International pour l'Exploration de la Mer, 182, 33-36.
Tavolga, W. N., & Nigrelli, R. F. (1947). Studies on Costia necatrix (Henneguy). Transactions of the American Microscopical Society, 66(4), 366-378.
Robertson, D. A., Roberts, R. J., & Bullock, A. M. (1981). Pathogenesis and autoradiographic studies of the epidermis of salmonids infested with Ichtyobodo necator (Henneguy, 1883). Journal of Fish Diseases, 4(2), 113-125.
Ogut, H., & Akyol, A. (2007). Prevalence and intensity of ectoparasites in rainbow trout (Oncorhynchus mykiss) from larvae stage to market size in Turkey.
Speare, D. J. (2002). Non-infectious disorders of coldwater fish. Diseases and disorders of finfish in cage culture, 171-193.
Urawa, S., Ueki, N., & Karlsbakk, E. (1998). A review of Ichthyobodo infection in marine fishes. Fish Pathology, 33(4), 311-320.
Robertson, D. A. (2019). A review of Ichthyobodo necator (Henneguy, 1883) an important and damaging fish parasite. Recent advances in aquaculture, 1-30.
Lamas, J., & Bruno, D. W. (1992). Observations on the ultrastructure of the attachment plate of Ichthyobodo sp., from Atlantic salmon, Salmo salar L., reared in the marine environment. BULLETIN-EUROPEAN ASSOCIATION OF FISH PATHOLOGISTS, 12, 171-171.
Robertson, D. A. (1979). Host‐parasite interactions between Ichtyobodo necator (Henneguy, 1883) and farmed salmonids. Journal of Fish Diseases, 2(6), 481-491.
Valheim, M., Håstein, T., Myhr, E., Speilberg, L., & Ferguson, H. W. (2000). Varracalbmi: a new bacterial panophthalmitis in farmed Atlantic salmon, Salmo salar L. Journal of Fish Diseases, 23(1), 61-70.
Todal, J. A., Karlsbakk, E., Isaksen, T. E., Plarre, H., Urawa, S., Mouton, A., & Nylund, A. (2004). Ichthyobodo necator (Kinetoplastida) a complex of sibling species. Diseases of Aquatic Organisms, 58(1), 9-16.
Fisher, F. S. (1940). Formalin for external protozoan parasites: A report on the prevention and control of Costia necatrix. Progressive Fish-Culturist, 7(48), 1-10.
LAMA, J., & BRUNoº, D. W. (1992). MENT PLATE OF ICHTHYOBODO SP., FROM ATLANTIC SALMON, SALMO SALAR L., REARED IN THE MARINE ENVIRONMENT. Bull. Eur. Ass. Fish Pathol, 12(5), 171.
Mitchell, S. O., & Rodger, H. D. (2011). A review of infectious gill disease in marine salmonid fish. Journal of fish diseases, 34(6), 411-432.